Innovation in Interior Architectural Design for Healthcare Facilities
Effective hospital interior design addresses patient and staff needs throughout every aspect of the construction. Find the latest innovations in hospital architecture and design here.
Pandemic Shifts Focus to Caregivers
The pandemic helped shine a light on the importance of the well-being of both patients and hospital staff. The physical and emotional demands of patient care puts doctors and nurses at a higher risk for physical and mental health issues. A new study from the Mayo Clinic revealed at least 63% of physicians reported at least one symptom of burnout, up 46% from 2011. Even before the pandemic, 35% to 54% of physicians and nurses reported symptoms of burnout, according to the U.S. Department of Health and Human Services.
Physician and nurse shortages are also setting off alarm bells. Physician demand is expected to continue to outpace supply, particularly in primary care medicine and in rural communities. Experts predict a shortage of between 54,100 to 139,000 physicians by 2033. The aging baby boomer generation is also helping fuel a nursing shortage as nurses retire and the demand for registered nurses continues to grow.
As the nation transitions to recovery and adjusts to the new normal, hospital interior design professionals are implementing design elements to ease the burden on healthcare workers. By improving workflow, increasing exposure to sunlight, and creating space for patient families, healthcare architects are doing their part to help boost mental health and make it easier to provide patient care, particularly in the ICU.
We're moving from patient-centric design to balancing the needs of both the patients and the caregivers. Focusing on caregiver satisfaction is an important piece of ICU design in the future.
Whether it's adding digital check-in stations, decentralizing medication, or creating separate entries for contagious patients, improving workflow is an invaluable tool to help busy physicians and nurses.
We look to improve the flows of patients, staff, equipment, care, medications, and whatever other critical flows the hospital department identifies.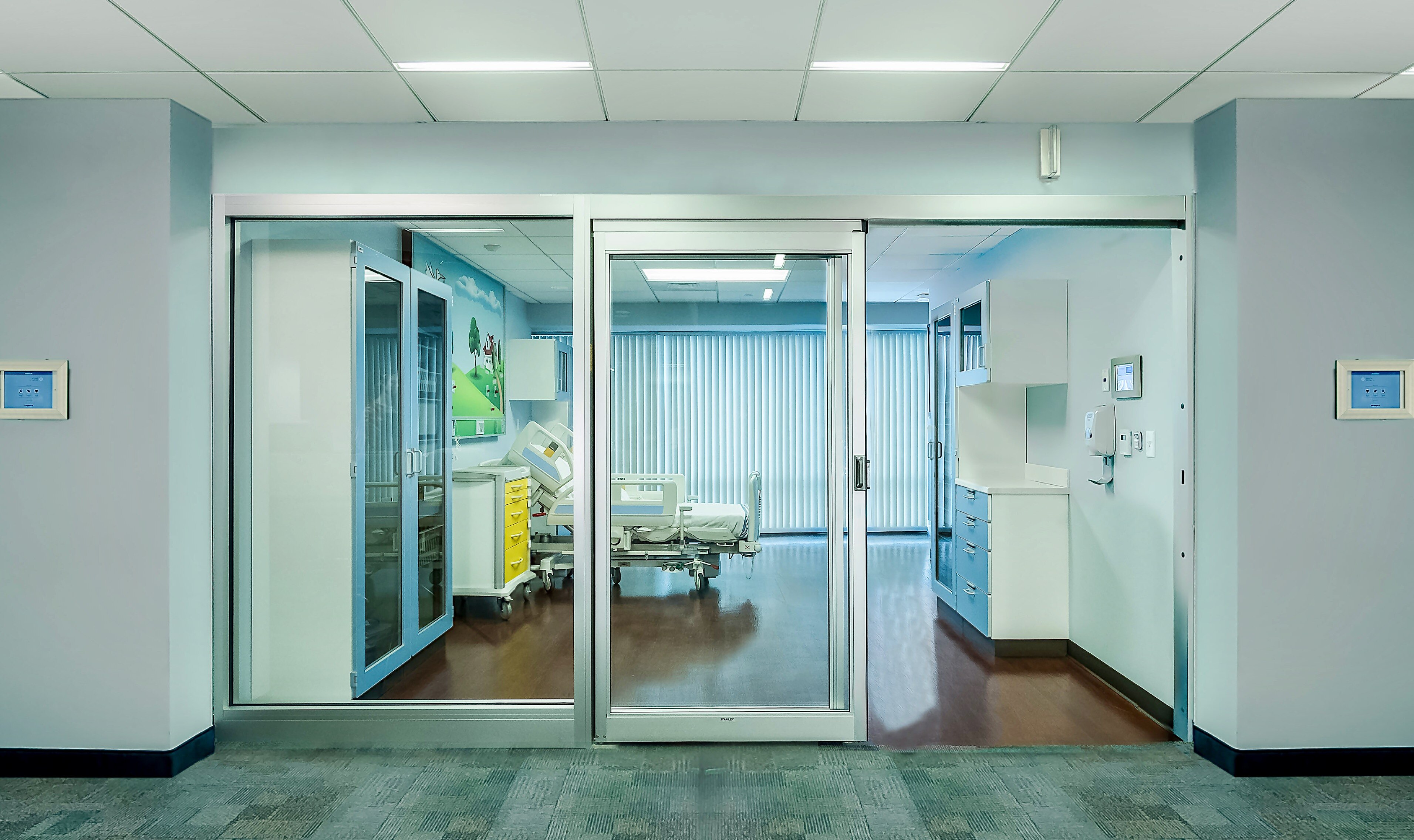 Architects are implementing cluster designs and decentralizing medication to improve patient visibility and monitoring. For example, during the vertical expansion of WakeMed Cary Hospital in North Carolina, the team at BSA LifeStructures, a national integrated design firm, added six nursing "neighborhoods" throughout the hospital to help reduce care team steps to maximize patient care.
The workflow of intensive care units requires careful planning and deliberation. ICUs focus on supporting critically ill patients by providing intensive specialized medical and nursing care and monitoring. Gresham Smith's architects are doing their part to prevent healthcare burnout and improve workflow by getting feedback from physicians and nurses during the ICU design process. The team creates mockup ICU rooms to ensure the design enables hospital staff to provide proper patient care.
Incorporating natural elements into hospital interior design promotes healing and provides a calming atmosphere. HDR Architects plans to add extensive landscaping and outdoor space at a new hospital opening in San Francisco, California. The design includes a publicly accessible outdoor terrace and will take advantage of the hospital's proximity to a nearby nature preserve. With offices across the globe, HDR Architects specializes in engineering, architecture, environmental, and construction services.
The pandemic encouraged architects to take their designs a step further by creating flexible outdoor spaces to accommodate certain programs and amenities. HDR Architects recommends designing outdoor spaces to give staff access to fresh air and gardens to decompress.
Designers are also making it a priority to incorporate natural light into every aspect of hospital design. Studies suggest exposure to daylight increases efficiency and reduces burnout of hospital staff. Moreover, sunlight aids patient recovery and helps reduce hospital stays, according to Environmental Health Insights.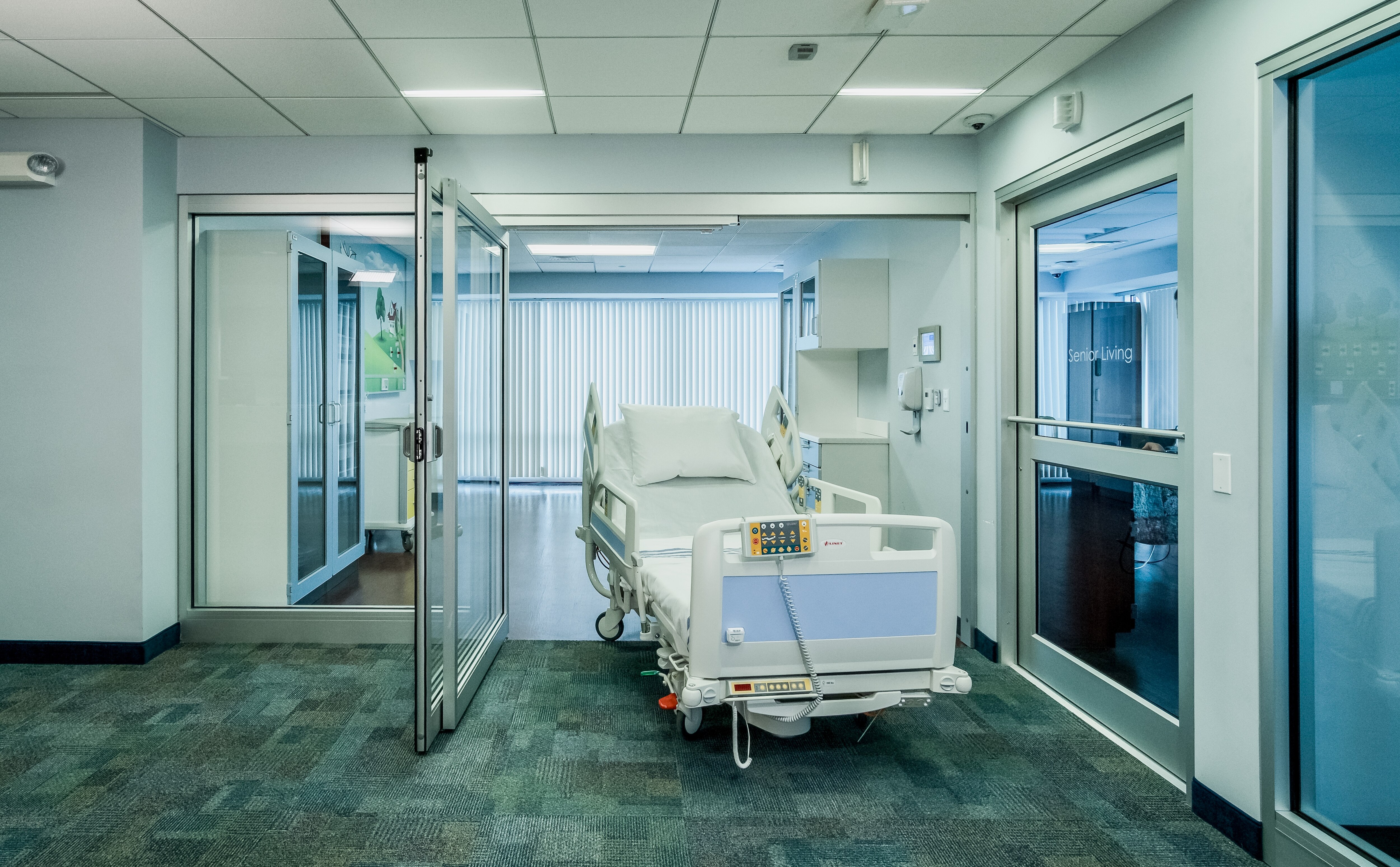 Hospitals are high-stress environments and rarely offer peace and quiet for patients or staff. Lowering the noise levels helps decrease stress and improve patient healing. With that in mind, designers are eliminating overhead pagers and building corridors to separate staff and the public. They are placing special emphasis on adding easily accessible break rooms and respite areas to help recharge staff.
Family will continue to be a priority for healthcare architects. Keeping families close to patients provides reassurance and allows family to support and respond to situations that arise. As a result, designers are prioritizing private rooms with comfortable chairs and space to accommodate family members. Emory University Hospital's Neuroscience ICU features a small respite room for families, attached directly to the patient room.
To help healthcare workers provide optimal care, architects are creating flexible spaces to accommodate an influx of patients. Having the right equipment during high-stress medical situations provides healthcare workers with peace of mind. Gresham Smith recently built a medical surge unit that can be converted into an ICU to treat overflow patients. The project required medical surge rooms to have extra clearance at the head of the bed. It also added the ability to install an articulating arm for medical equipment commonly used in ICU rooms, among other accommodations.
Designers are taking advantage of technological advances to improve patient care and employee morale. Stanley Access Technologies is helping the ICU run smoothly by manufacturing easy-to-use, ICU doors. The doors are designed to break out and reset at the touch of a button to widen the clear door opening and make it easier to transport critical patients and equipment. Special door handles are designed to prevent snagging on medical tubes, and built-in blinds add privacy.
The pandemic drew attention to indoor air quality. To keep staff and patients safe, architects are using HVAC systems to prevent the spread of airborne diseases. They are also helping ensure hospitals have the space to install external ICU monitoring. WakeMed of Raleigh's external ICU team of critical care nurses, physicians, and support staff provides extra sets of eyes and ears for patients across the system, primarily in the ICU environment. Telehealth services also eliminate unnecessary traffic in the ICU.
Healthcare architects are on the frontlines improving patient care and employee well-being. Using design to decrease burnout is helping shape the future of healthcare. To work with Stanley Access Technologies and address patient and staff needs alike, get in touch today.