Introducing the ProCare™ 8500 Telescopic ICU Doors
ProCare™ 8500 has the widest clear door opening in the healthcare industry, maximizing working space in small areas and easing patient transfers.
Today we proudly announce the release of our new ProCare™ 8500 and 8500A 3-Panel Telescoping ICU Door, the latest design in our ProCare™ Series of hospital doors. Both the manual ProCare™ 8500 and the automatic 8500A, which are now available to order, were engineered to create the widest door opening in the industry for telescopic doors and have all the same ProCare™ features that healthcare professionals rely on every day to protect patients. Key features of the ProCare 8500 include: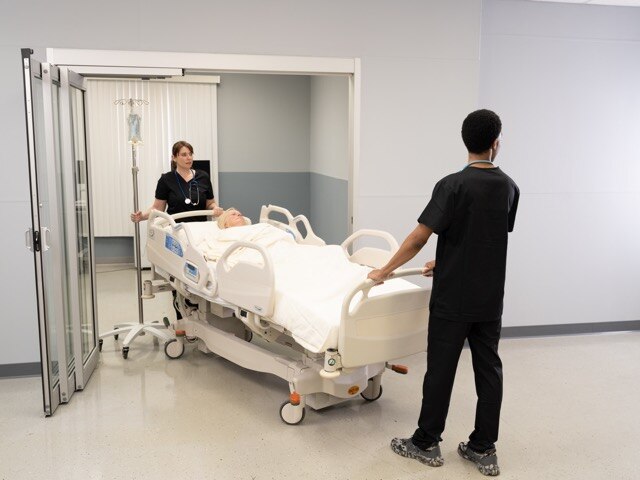 Widest Clear Door Opening
56.8" of clearance for an 8' telescoping door: to allow patients, staff and equipment to move in and out of ICU rooms more quickly. (8500A has 55.7" of clearance for an 8' package) 
Push-Button Break-Out and Reset,
Making it easy for a single staff member to instantly open the entire door system and reset it with minimal effort. 
Synchronized Panels on a Trackless System
Creating a quieter environment to prevent patient disturbances and helps to minimize places bacteria and germs can build up. 
Contoured Handles and Latch and Lock Shrouds
To prevent snagging on IV lines and other equipment.
To maintain aesthetics in retrofit applications and provide more headspace.
There are several available options that come with ProCare™ 8500 that include antimicrobial touchpoints for increased patient and staff protection, electric privacy glass or integral blinds for increased privacy, self-closing options with electromagnetic hold-open for manual doors, keyed or card reader access for improved security, low and full energy options for automatic doors, as well as packages available for smoke and draft prevention, airborne infection isolation and clean room applications. 
ProCare™ 8500 Telescoping ICU Door is backed by warranty and world-class install service and support, with a national network of highly trained, AAADM-certified technicians. 
"I am very impressed with the new 8500. One the best new engineered products to come out in the 35 years I have been involved with STANLEY. It works and works well. It is obvious [STANLEY Access Technologies] took [the] time to get it right the first time."